GLOBAL TECHNICAL ADVISOR/ BRAND AMBASSADOR
Global Technical Advisor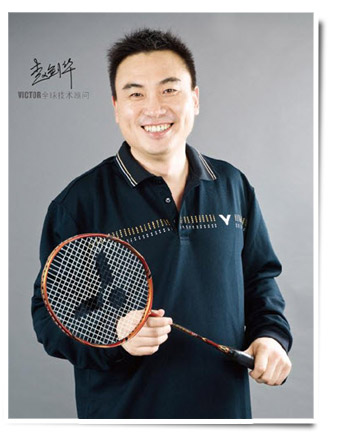 Hello badminton fans, I'm Zhao Jian Hua.
I am very grateful to VICTOR for providing me with an additional platform on which to interact with everyone. In July this year I was invited to join the VICTOR team as a global technical consultant and was honored to accept this role. VICTOR and I actually cooperated for four years from 2003 and, in 2004, VICTOR brought out the Zhao Jian Hua 3000 offensive racket, a product that I was really impressed by.

VICTOR has a single-minded devotion to the sport of badminton and deserves praise for the strong support it has always given professional and amateur badminton players over the 42 years since its establishment. I am very pleased to be able to share my thoughts with VICTOR.

The new "Legend" racket is a fine offensive weapon. With AERODYNAMIC , head-weighting and strong shaft, it packs a real punch; it is also painted in red and gold colors that Chinese people like. The "Legend" is a fine product that is well-worth using and collecting, Thank you to everyone for loving badminton and paying attention to VICTOR! I wish everyone good health and every success!